Hospitality & QSR branding has always presented us with the most rewarding challenges. In one of its most unusual–and enjoyable–projects to date, Strategic Insights has launched a branding/interior decorating effort for Firewürst Flame-Grilled Sausages & Dogs, the first location of a new QSR concept devoted to "the other side of the backyard barbecue."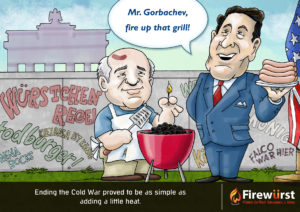 According to Firewürst co-founder Bill Morgenstern, America is saturated with burger, pizza and Mexican joints–it's time for a little variety and time, in his words, for people to "break the burger addiction." And who better to usher sausages and hot dogs into the aught-teens than Morgenstern and his son co-founder Chas, who both trace their roots back to a Romanian forebear–and sausage-maker extraordinaire.
In finding the right tone for the venture, Strategic Insights suggested a series of satirical cartoons that would expose "great sausage conspiracies" throughout history. "We want to give sausage its due," said Creative Director Bill Cokas, who created the cartoons along with Associate Creative Director Chris Griffin. "It's time this venerated meat got some respect, so we shone a spotlight on some forgotten moments throughout history where sausages and hot dogs were present–but not necessarily accounted for." The overall goal was to engage customers and provide them a fun and rewarding visit.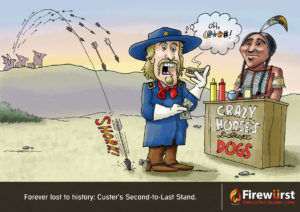 "I mean, come on–how can you be too serious when it comes to sausages?"
Moments depicted include the inspiration behind the first telephone transmission, the end of the Cold War and Napoleon's secret reason for keeping one hand concealed at all times.
The characters depicted in the posters also make a second appearance over everyone's heads in what the team ended up referring to as "sausage clouds," an inspired idea from the Morgensterns to add a little bonus levity to the experience.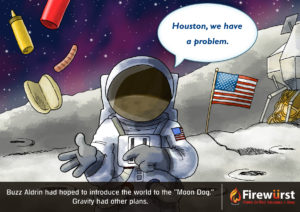 Strategic Insights also designed and built Firewürst's website, menu boards and a series of informational posters throughout the restaurant, known as Firewürst Fresh Facts.
"Not only was the work a blast, but it appears to have paid off," Cokas remarked. "Customers are surprised when they find out the sole Cary location of Firewürst is not, in fact, a national chain. We consider that a mission accomplished. And Bill and Chas have made sure the food is incredible, so the whole customer experience is a win-win." Firewürst has since announced a Brier Creek location, with others in the würks [sic].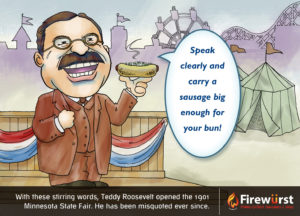 Between Cokas and Griffin, the pair has created memorable work for McDonald's, Golden Corral and Raleigh-based Rocky Top Hospitality.
"We love working for restaurants," Griffin observed, "as long as it's not in the kitchen."
View the entire poster gallery here.